SimpliVity
SimpliVity was founded in 2009 by Doron Kempel, founder and CEO of Diligent Technologies, a pioneer in data duplication. SimpliVity beginning their 43 months of silent development, devoting this time on their revolutionary foundational technology the "OmniStack Accelerator Card", "A globally-aware file system with data optimization techniques that enables a single shared resource pool across multiple sites". SimpliVity is able to deduplicate, compess and optimize at inception across all storage tiers once and forever. Their product launched in 2013, their HQ is based in Massachusetts with sales offices in the United States, Europe, the Middle East, Africa, and the Pacific Rim. SimpliVity's business model is 100% indirect, and its solutions and professional services are available through its network of worldwide resellers and distributors.
Hyperconverged Infrastructure for the Software-Defined Data Center
Achieve cloud economics, efficiency and agility without compromising enterprise-class performance, protection, disaster recovery and functionality.
With SimpliVity's Hyperconvergence Platform, customers are achieving 100:1 data
efficiency rates while improving performance by over 50%.
impliVity provides the best of both worlds: cloud economics with the enterprise capabilities that your business needs, data efficiency, performance, data protection and global unified management. SimpliVity's Data Virtualization Platform was designed from the ground up to simplify IT. It solves the data problem by increasing overall data efficiency with an all-in-one, hyperconverged solution.
SimpliVity HyperGuarantee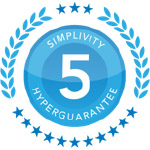 Only SimpliVity hyperconverged infrastructure delivers the enterprise-class performance, protection, and resiliency that you require, with the cloud economics your business demands.
As a proof-point of our platform maturity and what our capabilities can do for our customers, we offer the industry's most complete guarantee including data efficiency, protection, simplicity, management and availability.
https://www.simplivity.com/why-simplivity/simplivity-hyperguarantee/